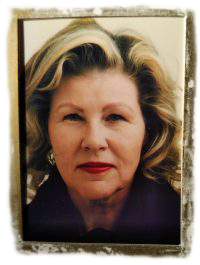 Studies
Luxembourg – Lycée de Jeunes Filles Luxembourg (Lycée Robert Schuman)
Genève – Ecole Internationale Tunon
Mannheim – Freie Kunstakademie
Düsseldorf – Staatliche Kunstakademie, Professor Joseph Beuys
Work
Luxembourg – Professeur d'éducation artistique – Lycée Classique d'Echternach
Belgium – Ecole Européenne Bruxelles I (1980 -1981 et 1988 -1993)
Decorations and costumes in films and theatre
Simplex, Ein Narr im Krieg – directed by Frank Feitler
De Rénert – directed by Frank Feitler
Pasolini – directed by Frank Hoffmann
Demetrius – directed by Frank Hoffmann
De Barrage – directed by Marc Olinger
Tango – directed by André Jung
Über die Schädlichkeit des Tabaks – directed by Stefan Mumme
Der Bär – directed by Charles Muller
Mumm sweet Mumm – produced by AFO Film
Dammentour – produced by AFO Film
Exhibitions
1988 – Regards Professeurs d'Education Artistique Luxembourgeois, Villa Vauban et Grand Théâtre Luxembourg
2001 – D'Biller, private exhibition, Echternach
2002 – Tendances Jardins, Château Erpeldange
2003 – Salon du Cercle Artistique, Villa Vauban Luxembourg
2004 – Salon du Cercle Artistique, Grand Théâtre Luxembourg
2005 – Salon du Cercle Artistique, Grand Théâtre Luxembourg
2005 – First Ladies First, Ferme du Château de Koerich
2005 – Art et Vin série limitée XIXe Edition, Château des Domaines Vinsmoselle, Stadtbredimus
2006 – Salon du Cercle Artistique, Grand Théâtre Luxembourg
2007 – Blue Stage Mega – Hype, Galerie Clairefontaine, Luxembourg
2007 – K4 Düsseldorf and Luxembourg in Koerich, Ferme du Château de Koerich
2007 – Dérisions, Galerie Armand Gaasch, Dudelange
2007 – Art-Gang, Art Haus, Bad Bertrich (D)
2008 – Salon du Cercle Artistique, Espace Paul Wurth, Luxembourg
2009 – "Boudoir", Credit Suisse Luxembourg
2013 – Club Privé "Marie-Astrid", Hôtel Saint-Nicolas, Remich
The Heritage of Geneviève Ley
Geneviève Ley is born on September 14th, 1950, in Luxembourg-City (L). Raised in Remich, the capital of the Luxembourgish wine region, her parents run a successful business in electrical contracting and appliances. From a young age, she identifies herself strongly with the Mosella Region, its traditions as well as winemaking and proudly speaks the local dialect. No surprise her final essay concluding her studies in Düsseldorf is about architecture, buildings, and housing specific to this region. Ley stays connected to the area her whole life, not only through regular visits but also through artistic collaborations with wine producers such as the 19th edition of "Art & Vins" initiated by Luxembourg's biggest producer, Vinsmoselle.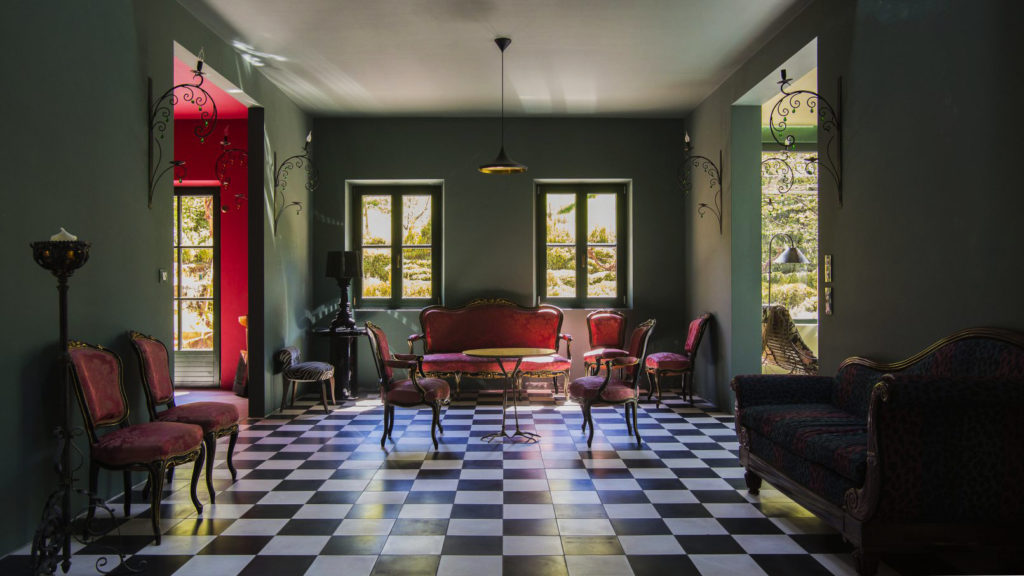 An early indicator of her affinity for travel, after completing high school, Ley goes to Geneva where her sister lives already. Here she studies Tourism. before then completely dedicating herself to art and art history under the professorship of Joseph Beuys in Düsseldorf. She considers travelling not purely as a physical displacement of the body but much more as a journey of the spirit. As such, she knows no boundaries. Part of this journey is her fondness for international and especially Japanese fashion. Internationally minded, when returning to Luxembourg and working as an art professor at Lycée Classique d'Echternach, the small abbey town to which she moves together with her husband and son, Ley spends many weekends in Brussels' antiquaries, Antwerp's fashion boutiques, the Art Basel, Cologne, Brussels, Venice's Biennale, international fashion shows, whereas holidays are mostly spent on the Italian Riviera, Tuscany, and Florence or in Switzerland's Engadin. Also, no road is too long if it means visiting Axel Vervoordt's castle and gallery or Bartabas' Zingaro at his equestrian theatre. When she's not on the road, she spends her Sundays with her mother and family, having an extended lunch at Hôtel St. Nicolas, her childhood town's gourmet restaurant managed by friends and overlooking the Mosella valley. It is not infrequent that this is followed by a visit to landscape architect, historian, and expert in antiquaries, but most of all dear friend, Marc Schoellen's gardens – a secret hideaway allowing her to disconnect from busy every-day life, recharge and reconnect with nature. Combining all these different aspects of her surroundings and the art world is what inspires her. The journey also extends to the dimension of time. A deep interest and 'passion' for the Baroque era is reflected within all her endeavours – painting, stage design, costumes, fashion and interior design.
Within her paintings, these elements are present throughout the entire collection, from 'Madame est sortie – Le roi danse' to the 'Pompadour Moderne' series. The artworks are integral. Leaving a piece untitled is out of question for Ley as a title gives the artwork the final finesse and often consists of a political message and critique of current national or international affairs. Ley however clearly maintains that she wants the public to interpret her paintings on its own and does not provide any explanation to these messages. If you would ask Ley if she is an artist though, her reply would be a clear and short "No" – the word of 'artist' being considered a strong negative qualification for her.
I can't paint without music.

The feelings I have when I express myself are relieved by the music I listen to at those moments. This frees up my approach to the subjects, and I let my imagination run free.
Her paintings are created in her studio by evening to late night. Baroque music of Jean-Baptiste Lully, world music, gypsy influences, Belgian punk (Vive la fête) and classics are playing in the background, while Ley stands in between piles of fashion, art and architecture magazines mixing strong expressionist acrylics and, from time to time, nipping on a glass of champagne (the only alcoholic drink Ley lays hands on).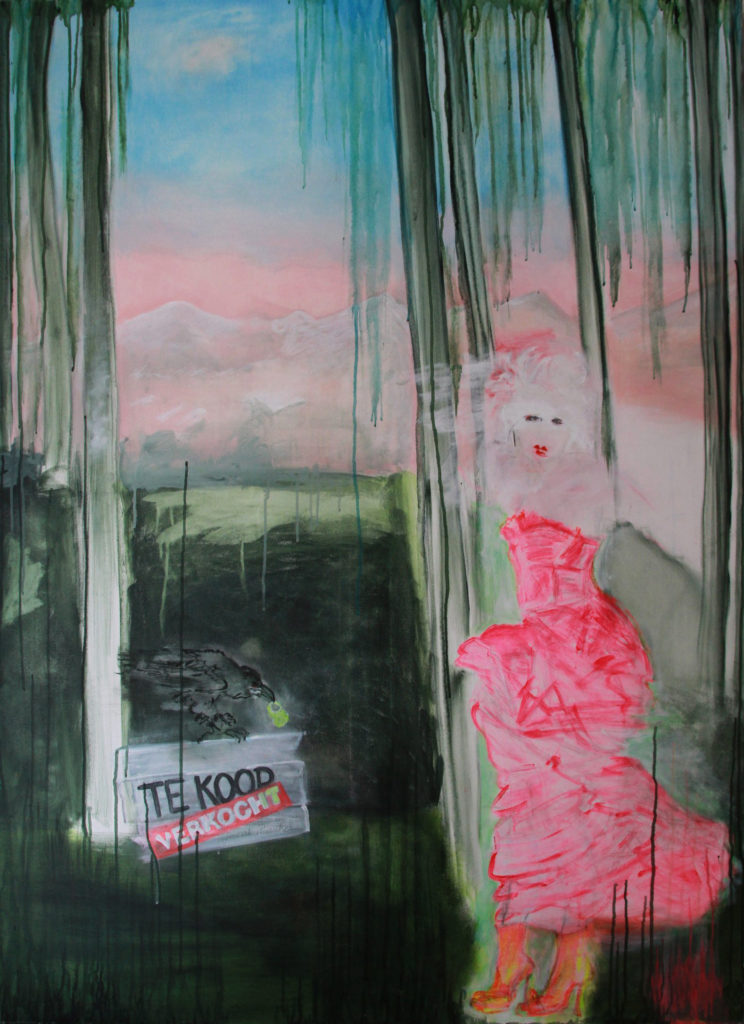 She is however not at all reclusive – much to the contrary. She frequents contemporary and classic art galleries nearly daily, meets with artist colleagues such as Su Mei Tse at Venice's Biennale, goes on unplanned day trips to Art Basel to exchange thoughts from a family argument and attends international fashion shows. It is here where she meets one of her idols in person: Comme des Garçons founder Rei Kawakubo. Ley, having herself more than one hundred pieces of Comme des Garçons, Junya Watanabe and Yohji Yamamoto, is a big admirer of this avantgarde of Japanese and international High Fashion. For Ley this is however not a collection but her everyday wardrobe. Also, this passion is often reflected in paintings with many of her items showing up in the artworks and taking centre- or side-stage. At the beginning of her career, Ley in fact designed fashion items not only for herself but also for theatre and film productions.
I am in search of the beautiful.
After emptying the last sip of Deutz, Ley often leaves her atelier to dance in the adjacent Orangery, the six-metre-high room otherwise used for hosting guests, afternoon-coffee and cake or extravagant parties with friends at her home. It is this house that she would probably consider as one of her masterpieces. Commissioned by both Ley and her husband, after facing major differences of opinions with the architect, it is she who takes the lead on the interior of the entire thirty-metre-long villa overlooking the town of Echternach. Integrating designer pieces from Philipp Starck to Tom Dixon and Agnès Emery, she manages again to build the bridge between traditional and contemporary, classic chic, Moroccan influences and contemporary expressionism. The day guests arrive, their discovery of this exquisite artwork is accompanied by the scent of incense, candles adorning nearly every room and more than a hundred red carnations lying on the table where dinner is about to be served.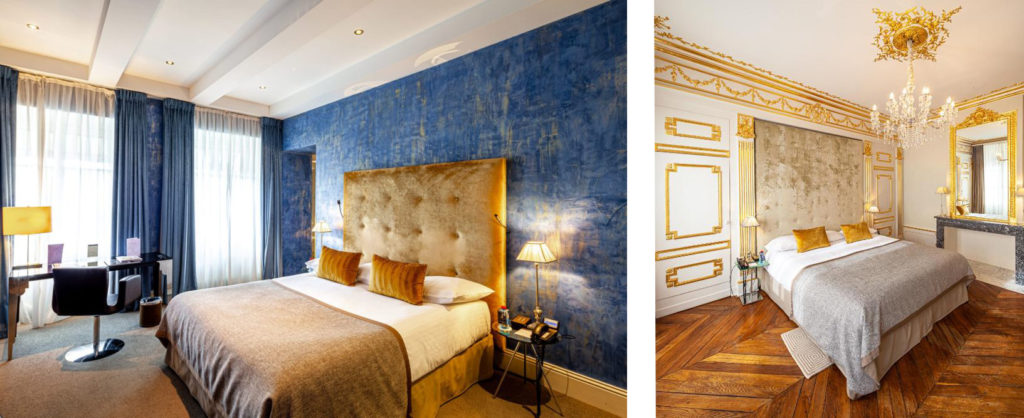 It is again this journey between cultures, epochs, and trends that she implements in the design of selected rooms at the Hôtel Le Place d'Armes, one of Luxembourg's most exclusive hotels and the country's only Relais & Châteaux member. It is none other than her former student and by-then architect and engineer Jean Beck who hires her for this project. Beck is at the same time not only one of the biggest collectors of Ley's art, but also a major source of encouragement, a valuable sparring partner for new propensities in her work and interests and, most of all, an esteemed friend. It is Beck's sudden fading that gives Ley a major set-back and sadness that never completely abates. Fate doesn't leave Ley herself untouched either. It is in 2012 when she is diagnosed with dementia, explaining why since some time before, she slowly let go of most of her passions and gradually withdrew from public and social life. One passion was not given up though – painting. Less regularly and contrary to everything she did before, it is completely abstract. This passion however never lets her go. Not surprisingly, one of her latest paintings is called « Au St. Nicolas ».
Today, she is once again leaving the public to interpret and judge her works without providing indications about meanings and messages. She stopped talking in 2018.
What she left us with is a modern-baroque universe of art, fashion, and interiors.
It is « The Heritage of Geneviève Ley ».